BEYOND THE GROUND FLOOR: BUSINESSES YOU CAN LOOK UP TO
As New Yorkers, we're proud of our focus and hustle — and why not? That determination to get where we're going, however, often happens at the expense of looking around to notice and appreciate all the unique things that make living here so "New York."
That's why we at the Greenwich Village-Chelsea Chamber of Commerce (GVCCC) wanted to use the final installment of our "Mom-and-Pop March" series of small business-themed articles to delve into the ecosystems of establishments that thrive above ground level. Although you can find everything from spas to gyms to jewelry in places that only the stairs or an elevator can take you to, we chose to focus on a few things that really stand out among the clouds.
THE MCKITTRICK HOTEL | When speaking to the McKittrick Hotel's Special Envoy, Cesar Hawas, you get the sense that planning to spend an evening there would be quite the experience. On any given night the diverse nature of our Chelsea neighborhood can be experienced through the patrons of the McKittrick. Both local and global visitors come here for "an emporium of curiosities for nightlife." The McKittrick is a perfect combination of a night on the town and a close encounter with the performing arts. With a bar and a restaurant on site, patrons can curate an entire night of activities. Come for "Sleep No More," Punchdrunk theatre company's immersive presentation of Shakespeare's Scottish tragedy. Told in the style of a suspenseful film noir, you can move freely through a transporting world at your own pace, then stay to enjoy drinks at the McKittrick's rooftop garden: Gallow Green.
Guests of "Sleep No More" arrive at The McKittrick Hotel's front desk, outfitted as a 1939 Manhattan hotel. Photo courtesy of McKittrick Hotel.
And if you plan the day just right, work your way to their restaurant, The Heath, and enjoy dinner and the electrifying, soulful rock of house band Heathens. The McKittrick has many options for your un-ordinary night out in Chelsea.
The McKittrick Hotel is located on various levels of 530 W. 27th St., btw. 10th & 11th Aves. Visit mckittrickhotel.com or call 212-904-1880. For Twitter, Instagram: @TheMcKittrick. For Facebook: facebook.com/themckittrick.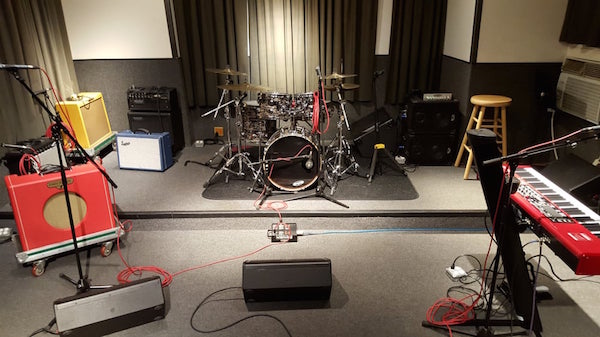 Euphoria Studio's well-equipped spaces are engineered for success. Photo courtesy of David Sokol.
EUPHORIA STUDIOS | "You run your business like you mean it. Your clients are depending on it." It was important for David Sokol, the owner of Euphoria Studios, to express that. When visiting the studios, as we did when we recently spoke with him, you get a clear vibe that it's all about the quality of the music and the space in which it is made, and nothing less than the best will do. Musicians (Herbie Hancock among them) are willing to pay for this kind of quality. Twenty-five years ago, as a musician himself, Sokol felt that studios were subpar. Bad equipment, dirty spaces, and poor management all led to the establishment of Euphoria to remedy such "atrocities." Perhaps that is why, as Sokol noted, there are only eight studios still operating in Manhattan. "You get what you pay for in New York," he said. "We're not inexpensive, but we're busy because we deliver the goods musicians need to work." In a place like New York, people are willing to pay for quality. It's what has kept the doors open, and has kept musicians coming back.
Euphoria has had big names come through their doors, such as Suzanne Vega and Joe Jackson, but are still relatively small, with just four studios. "You can't change the DNA of a business," Sokol said. "I wouldn't want to have to manage more studios." Sokol is an artist, and a focused individual. Euphoria is about making good music, not necessarily expanding his personal enterprise.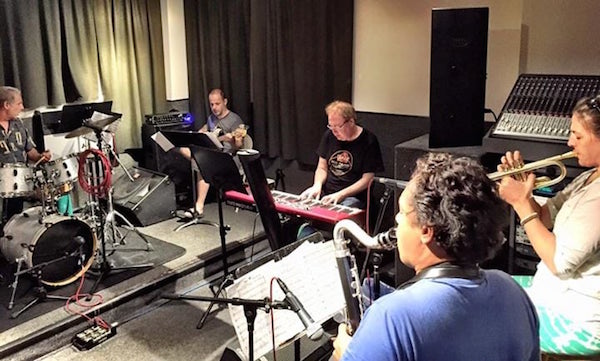 August 2015: Jason Miles (keyboard) and Ingrid Jensen (trumpet) rehearsing at Euphoria Studios for their album, "Kind of New." Photo courtesy of David Sokol.
With regard to the challenges of not having a traditional storefront, Sokol noted this aspect of his business is actually advantageous. Euphoria by design couldn't have random individuals walk into the facility; it's not that type of place. As Sokol put it: "Here we have 360 degrees of music. If it's good, we'll record it. Everything that's needed will be here for you." Sokol's business structure is simple, yet hits the point directly: "If you want a high quality music studio, Euphoria will have the elevator door open for you."
Euphoria Studios is located on the ninth floor of 40 W. 27th St., btw. Sixth Ave. & Broadway. Visit euphorianyc.com or call 212-447-5070.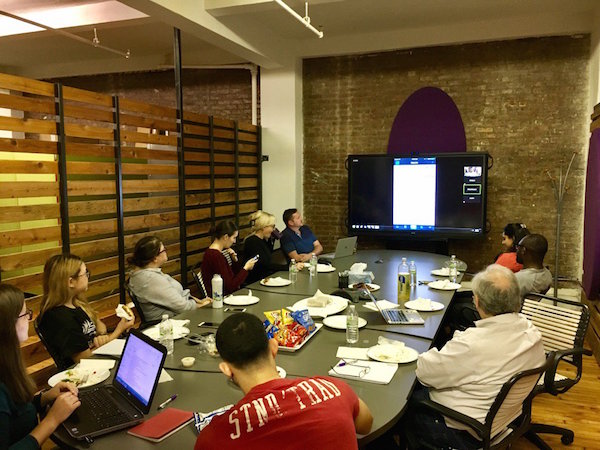 A "Lunch and Learn" session at SUM Innovation. Photo courtesy of SUM Innovation.
SUM INNOVATION | SUM Innovation has been part of Chelsea since 2001, and they've expanded a few times over the past years — which should give a good measure of their success. CEO Mathew Heggem recently told us that SUM is proud to be part of the neighborhood because a location in the middle of Manhattan really gives a business certain clout. "It helps portray a certain professionalism for clients looking to associate themselves with a company that has the NYC stamp of approval," Heggem said.
Being housed on an upper floor, however, can be quite the marketing challenge. "It takes a lot more reaching out," Heggem noted, "because nobody is going to tell someone about an accounting firm on the fifth floor of a building. We have to be creative in how we use our marketing resources in a way that constantly makes people seek us out purposefully, otherwise nobody will notice us."

SUM Innovation is an accounting firm worth venturing to the fifth floor for. Image courtesy of SUM Innovation.
SUM Innovation loves the community it serves. They work with a lot of smaller shops and nonprofits, and sometimes much bigger clients than your average mom-and-pop. You get the sense from talking to Heggem that SUM really helps other New York businesses thrive and grow. Seeing all the unique and beautiful businesses throughout Chelsea, we are grateful for companies such as SUM that keep that local economy flourishing by assisting other businesses with services that they may not be able to provide for themselves.