FABSCRAP Is Green And Great
The following article was written by Diana Ducroz of the Chelsea News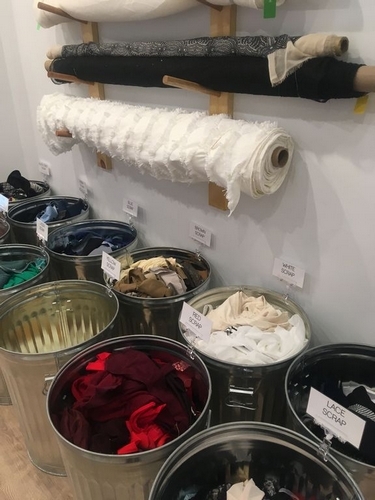 Shoppers at The FABSCRAP Shop, a sleek new storefront at 110 West 26th St., are not just finding bargains, they are helping to save the planet. 
Bolts of high-quality fabric line the walls above bins filled with fabric scraps arranged by color. Designer fabrics sell here for as little as $5 per yard. "You would never know that all of this was supposed to be on the curb and going to be buried somewhere in a landfill. It's really beautiful stuff," Jessica Schreiber, executive director of FABSCRAP, said of the shop's carefully curated stock. 
The nonprofit Schreiber founded three years ago collects, sorts, and redistributes leftover fabric from local fashion houses, interior design businesses and theater costume departments.
Don't Waste It, Wear It 
Following a pilot series of pop-up shops around the city last year, FABSCRAP opened its first permanent retail outlet on June 1 on West 26th Street, close to the fashion students who make up such a large part of its customer base. 
In her previous job at NYC's Department of Sanitation, Schreiber often heard from commercial designers asking for alternatives to leaving their excess fabric out for trash pickup. Although a reuse stream had developed for used clothing, no such infrastructure existed for the raw material, especially in such large quantities. 
For a year, Schreiber thought about possible solutions, telling only a couple of people about her idea for a textile pickup service. But then one of them nominated her in 2016 for "Project Runway Fashion Startup," a one-season spinoff of the hit reality show, and everything changed. 
"The most terrifying leap was when I pitched the idea, and then past that, nothing else has seemed as scary," Schreiber said. 
Her pitch to the show's panel was successful, earning her the seed money to start FABSCRAP in September 2016.
Tons of Good Deeds 
Since then, the organization has salvaged over 350 thousand pounds of raw fabric otherwise destined for the landfill or incinerator, at a rate of 5,000 pounds each week. The material is housed and sorted in FABSCRAP's warehouse at the Brooklyn Army Terminal. 
Roughly sixty percent of the stock is then made available to the public for purchase at a bargain price or donated to other organizations. The remainder is shredded and recycled as insulation, carpet padding, moving blankets and mattress stuffing. Only a tiny fraction cannot be recycled and will end up in the landfill. 
Perhaps the most creative repurposing of the scraps is to fill punching bags at local boxing gyms, Schreiber said. 
FABSCRAP has grown faster than Schreiber anticipated, and now employs five full-time and two part-time staff. The organization is self-sustaining through service fees paid by the donor businesses, along with the proceeds from fabric resale.
The organization also relies heavily on volunteer help to sort the loads of incoming fabric. In exchange for a three-hour shift, volunteers may choose five pounds of free fabric from the warehouse inventory or five yards from the more select retail stock. Fashion students in particular have been attracted to FABSCRAP, both as volunteers and customers. The fabric stock is "pretty high-quality stuff, but it's low quantities. It's affordable," Schreiber said.
FABSCRAP's customers also include a diverse demographic of "emerging designers, home sewers, quilters, crafters, artists, a lot of people who just really care about the sustainable sourcing in their work or in their creations," Schreiber said. 
A Business Built On Scraps 
Designer Daniel Silverstein is not part of the FABSCRAP staff, but jokes that he's "FAB-adjacent." Over the last decade, Silverstein has established a clothing design business built on scraps. "I started literally with my own scraps," Silverstein said. "One day I made myself a shirt out of scraps and my business took off from there." 
It's fitting then that his company, Zero Waste Daniel, is the first featured designer pop-up shop in FABSCRAP's new location. 
"Daniel is a great example of utilizing the small pieces to make something that's totally wearable and usable," Schreiber said. "What 'reusable' is is really just dependent on the person's creativity."
"As a designer, sourcing materials is a huge job," Silverstein said. The abundant, affordable and consistent supply, as well as diverse textures and colors, now available through FABSCRAP "eliminated a huge amount of headache and stress for me," and has allowed Silverstein to expand his production. 
The 'zero waste' aspect of his designs is a great selling point. To stand out as a designer in a crowded field, "you have to have something original to say," Silverstein said. "About 100 percent of the growth of my business and my brand has been organic because people are really genuinely interested and fascinated by this issue, and I think the same is really true of FABSCRAP."
The Future is Bright
FABSCRAP is evolving into more than just a textile recycling business. In coming months, the store plans to hold educational and social events at their new location where the public can learn about topics such as sustainability or hear local designers speak about their work. Down the road, Schreiber hopes to expand FABSCRAP's business model to other cities that have a similar nexus of manufacturing, designers, makers, and shredding capacity.
FABSCRAP's active social media presence is further nurturing a budding community of makers who share ideas and information. It's a place where people "can share what they're doing and what their skill or their technique is," Silverstein said. "As much as it is a place where I'm getting news about the business, I'm also getting linked to other people who are inspiring me."