Setout Times for Waste are changing April 1
W W W . N Y C . G O V / S E T O U T T I M E S
---
ON THIS PAGE: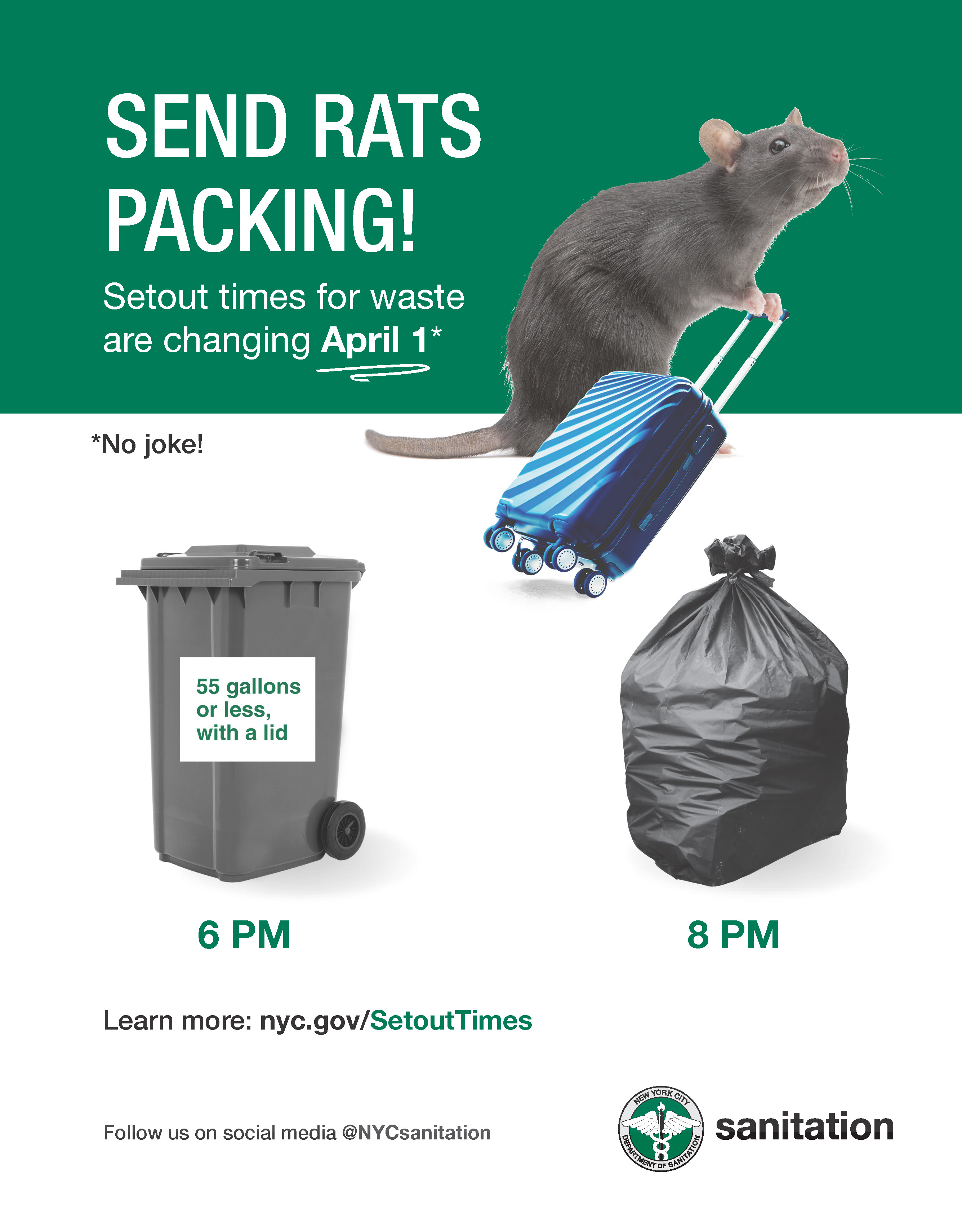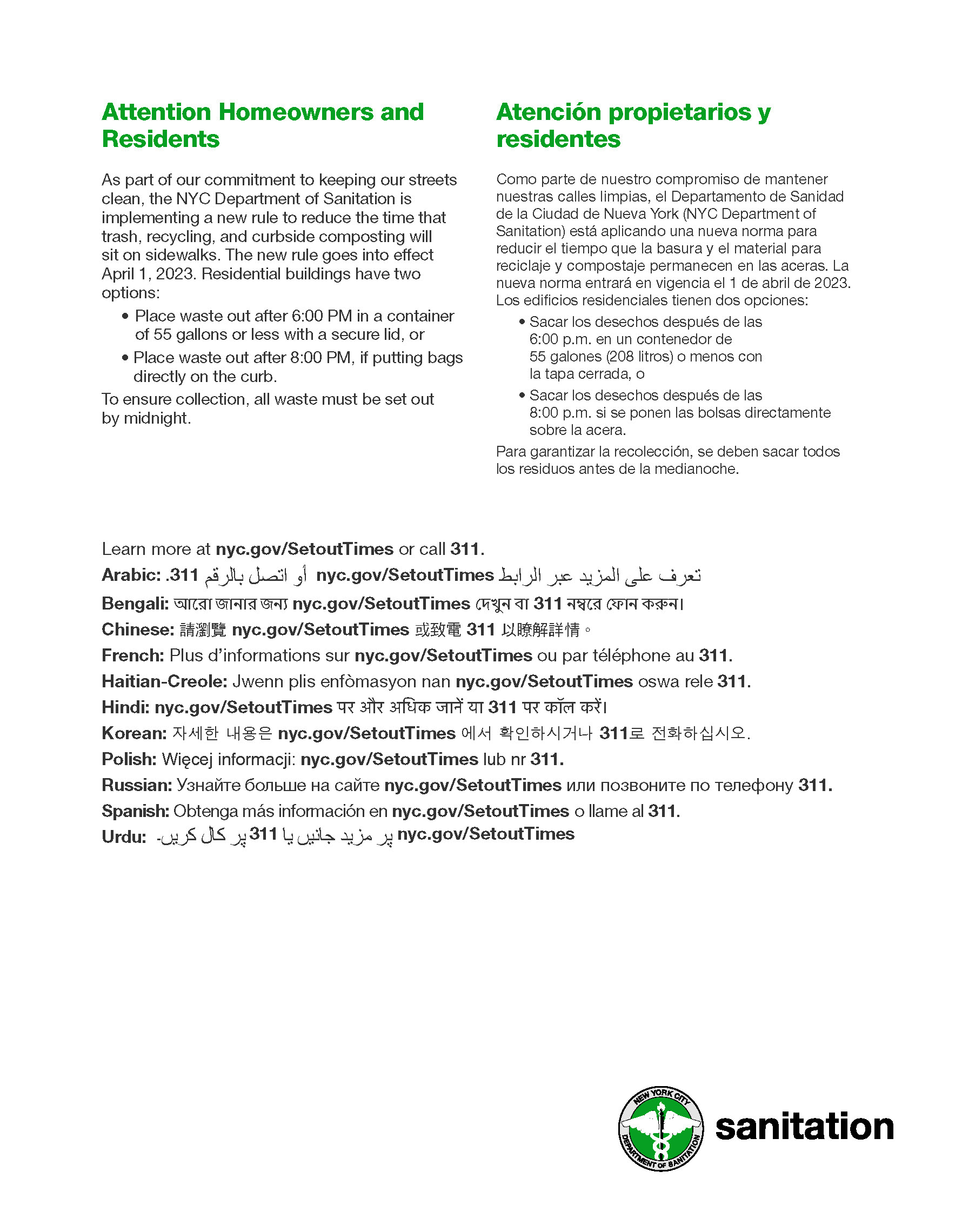 ---
Attention Homeowners and Residents
As part of our commitment to keeping our streets clean, the NYC Department of Sanitation is implementing a new rule to reduce the time that trash, recycling, and curbside composting will sit on sidewalks. The new rule goes into effect April 1, 2023.
Residential buildings have two options:
Place waste out after 6:00 PM in a container of 55 gallons or less with a secure lid, or
Place waste out after 8:00 PM, if putting bags directly on the curb. To ensure collection, all waste must be set out by midnight.
Atención propietarios y residentes
Como parte de nuestro compromiso de mantener nuestras calles limpias, el Departamento de Sanidad de la Ciudad de Nueva York (NYC Department of Sanitation) está aplicando una nueva norma para reducir el tiempo que la basura y el material para reciclaje y compostaje permanecen en las aceras. La nueva norma entrará en vigencia el 1 de abril de 2023. Los edificios residenciales tienen dos opciones:
Sacar los desechos después de las 6:00 p.m. en un contenedor de 55 galones (208 litros) o menos con la tapa cerrada, o
Sacar los desechos después de las 8:00 p.m. si se ponen las bolsas directamente sobre la acera. Para garantizar la recolección, se deben sacar todos los residuos antes de la medianoche.
Learn more at nyc.gov/SetoutTimes or call 311.
More Languages:
Arabic: Bengali: আরো ো জানার জন্্য nyc.gov/SetoutTimes দেখুন বা 311 নম্বরে ফো োন করুন।
Chinese: 請瀏覽 nyc.gov/SetoutTimes 或致電 311 以瞭解詳情。
French: Plus d'informations sur nyc.gov/SetoutTimes ou par téléphone au 311.
Haitian-Creole: Jwenn plis enfòmasyon nan nyc.gov/SetoutTimes oswa rele 311.
Hindi: nyc.gov/SetoutTimes पर और अधिक जानेें या 311 पर कॉल करेें। Korean: 자세한 내용은 nyc.gov/SetoutTimes 에서 확인하시거나 311로 전화하십시오.
Polish: Więcej informacji: nyc.gov/SetoutTimes lub nr 311. Russian: Узнайте больше на сайте nyc.gov/SetoutTimes или позвоните по телефону 311.
Spanish: Obtenga más información en nyc.gov/SetoutTimes o llame al 311.
Urdu: . أو اتصل بالرقم 311 nyc.gov/SetoutTimes تعرف على المزيد عبر الرابط پر مزید جانیں یا 311 پر کال کریں۔ nyc.gov/SetoutTimes
---
Setout Time Info Sessions with the NYC Department of Sanitation
---